PVE, PVP and Multiplayer as a Whole - The Potential Lack of Challenge That Will Come With the Current Rule Set
caatalyst
---
So I've watched a fair chunk of streamer footage and feedback now a long side keeping a tab on Pete Hines twitter account and I have to say I'm pretty worried that FO76 is really going to be lacking in some really important areas, in particular the drive to keep playing beyond completing quests. So far it feels very much like the PVE is not only pretty easy and watered down compared to previous FO games, but also the multiplayer isn't quite multiplayer but instead more co-op due to the heavily gated player interaction and low population of player's per server.
Now I can't say I speak for everyone, I know a lot of people are happy to wait and see what the game looks like but there's nothing wrong with opening up some healthy discussion about points that not only i'm addressing but that many others have including the streamers that played for a few hours. One thing to point out that I'm not going to get into is bugs and optimisations as those things will with out a doubt be fixed during or shortly after beta.

So let's get stuck in! 

User Interface
First let me point out that I love the new menus for workstations, they look much cleaner and easier to navigate. Unfortunately it's hard to say the same for the pip boy. In a game that is heavily designed around looting and crafting the pip boy is really bare bones and unintuitive. If anybody played Fallout 4 and used mods like vals sorting, iconslib and gold pip boy they will be aware of the additional sorting categories  provided as well as icons that really helped the player navigate and find what they needed in their inventory. Simple things like separating food, medicals etc into sub groups made a huge difference. As FO76 is taking crafting to the next level it feels more necessary than ever and I can't believe the developers didn't pick up on this one. Here is a screenshot below of a clean modded FO4 pip boy that was a dramatic improvement: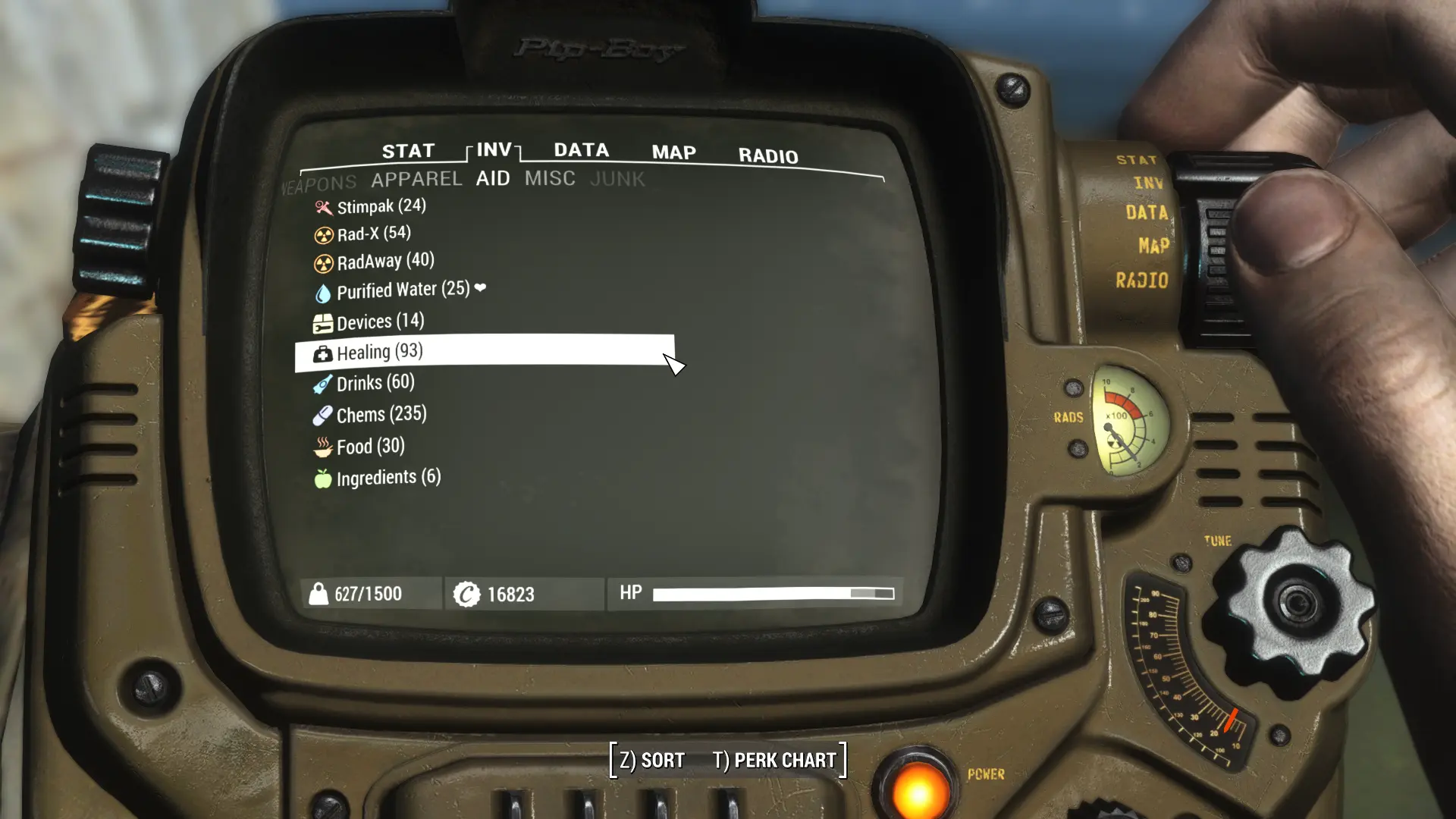 PVE 

It's become clear at this point that Fallout 76 is very much a PVE co-op game, not necessarily a multiplayer survival experience. This means that the PVE really has to shine through and it is something I'm worried about because from the footage that I've seen so far it's looking like the experience is going to be all too easy. I'm not just talking about incoming and outgoing damage but mainly due to some of the current systems addressed below. Because the game is online only then we have no real control over the difficulty. I watched one streamer take down a group of robots at the same level with a golf club and without using a single stim pack. I really hope that the game becomes significantly more difficult as it progresses. A lot of streamers are comparing the experience to feel very much like fallout 4 and i suspect that years after FO4s release most players have been playing survival difficulty to keep them entertained so to go back and have to play the game in easy or medium mode could make the experience all to easy. Some things that stood out in particular;
Looting and Resources
Loot was incredibly plentiful. Some of the dead NPCs and containers were dropping so much stuff to the point where the player never seemed to be concerned about 'survival', in particular food and drink.
Storage – Unlimited Stash
An immersion and survival killer - Why did they decide to give player's a bottomless, wirelessly linked stash? Not only can we craft one for our base but they are present all over the map and all are connected. Would it have not been more interesting to limit the capacity? That way player's would have to pick and choose what they prioritise as valuable and to be stored in the stash. This would also result in player's designing their bases in more creative ways looking at designs that provide hidden areas for them to store loot. It adds more excitement to the survival component of the game and will give all other loot containers that can be crafted a purpose. Not only that but bottomless stashes already baked all over the map with work stations essentially voids the need for a base at all.
Fast Travel
I'm not a big fan of FT in general but I can see its necessity on a map this big. The problem is fast travel is free to essential locations, including friends and costs very little to go everywhere else. This is one I'm probably the most put off by as it is a total immersion and exploration killer. I don't want to see Star Trek level teleportation taking place all the time. Wouldn't it be better if we had some cool downs on FT and increased cost so we had to be a bit more strategic about how we use it? The current system will allow people to teleport to town, pick up loot and teleport home. Does that sound like good game design? To me it doesn't.
Respawning
Respawning is another immersion / challenge killer. You can pretty much spawn foot steps away from where you died. This just makes the game way too easy and will cause headaches for PVP encounters and harassment. Why didn't they just use  the bed system like in FO4 survival? You have the choice of the last bed you slept in or your own bed at base or vault 76.
PVP
I know this topic is a very sensitive one on the forums but I hope now that people have seen actual game play they will understand where I am coming from with the points I'm making. I'm definitely opposed to griefing but I'm definitely for PVP as player interaction is what I see as the life line in this game for keeping it alive due to the lack of other sentient life forms on the map. Let's first be clear, PVP is in now way going to be like any BR game or Rust. There are only 24-32 player's on the map and it is huge so the odds of you actually seeing a player are pretty slim.
Map Markers
Remove player map markers (or make them togglable via pip boy) Why do we need to see everyone on the map? A total immersion breaker and removal of the sense of stranger danger
Slap System
Rework the slap system so that it only kicks in after multiple kills of the same player in a small amount of time. Absolutely nothing is lost on death and player encounters are so rare it doesn't even matter if you die once or twice a day to  another player. Would you rather have a player just kill you and get it over with or have them jumping around you shouting and screaming trying to antagonise you and dealing slap damage for the bulk of your play? A rare scenario I'm sure but this sort of system opens up the doors for weird, confusing and unnatural player behaviour due to the 'gamey' mechanical nature of its design.

SUMMARY

These changes might sound significant, but they are essentially changes to the rule set and balancing of the game just to ensure that there is a consistent challenge throughout the game and to keep us playing in the long term. I know I've made a few points about softening the PVP restrictions but I hope a lot of folks who were concerned about this part of the game are put at ease now after seeing the size of the map and the small amount of players that will be present. If all the changes I've suggested were made then player interaction happening randomly would be very fair and few between so even if you did get killed by another player it would be rare. At the same time player interaction could be toggled on so if you actively wanted to find somebody either to trade or to fight you could choose to do so.

I really want to see this game do well, but it needs to keep player's immersed and engaged and I'm just worried it's stuck on easy mode to the point where there is no real challenge or reason to drive us to survival once we have explored the map and completed the main quest line. More so than FO4 because the quests and PVE is a lot more limited due to the multiplayer setting and lack of NPCs.
I can see things like the economy getting bloated, player's never having to worry about their character or losing anything just making the game feel more like the sims settlement mod for fallout 4 essentially becoming the core game play of FO76. (no disrespect to that mod I love it). We need a reason to survive, a reason to interact with other players both in PVP and trade but if the game is too easy then there's no reason to do either.

I suspect that there must be others that have played FO4 survival or similar survival games and who are really looking for a challenge. At the very least I thought we might get an option when creating our character to join 'hardcore survival mode' servers with more difficult rules sets like I've suggested. That would have added so much longevity to the game, especially when private servers are over a year away.
 I'd love to know what others think after watching the game play that has been showcased so far.